Can you Imagine my whole face was Sun-burnt While walking to my office yesterday.
You could see it was Red and mildly peeling around my nose and cheeks. I regret not putting an SPF before Walking-out, If this was not worse, Miss Fatima walked-in
Miss Fatima Was suffering with Severe pigmentation and Melasma. Can you Imagine She is one of those Few Unhappy Clients who feels, She is not benefiting at all with our treatment.
I want you to know that before Miss Fatima started with us. She  severe Pigmentation all over her Face, Can you Imagine it was all because of not using an  SPF during her trip to Australia,
Where she was Seriously sun-burnt. Just Imagine it Resulted in Patchy pigmentation all over her face.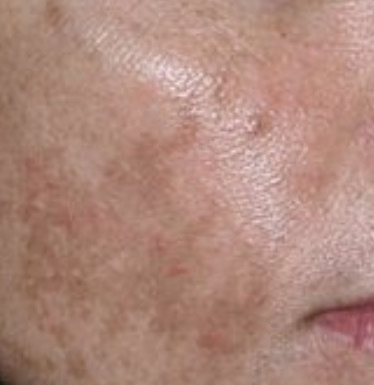 You will be surprised to know what happened after, She visited a well known clinic in Dubai and they immediately
Offered her a Chemical peel, After the Peel She went through excessive Itchiness and Peeling over the week and her skin looked better and Can you Imagine that as she started to feel confident, she got 4 times more pigmented patches all over her Face .
You probably understand How this can effect one's confidence,
She showed me her before picture and it was disheartening to see pigmentation on
Such a pretty face.
She wanted to know Will our treatment make any difference or it's just another money making Treatment ?
Will I see Results ? , Will they Last ?
She wanted a permanent solution.
Then,
 We explained her the treatment and she was BOOKED for 15 sessions with us. And Yesterday was her 6th Session, As you read hear word by word you probably gather.
I was worried because last week she complained that she is not benefitting from our treatment, I was concerned for her as we have almost 100 % SATISFIED Clients  who have benefitted  with
Our Pigmentation , Melasma , Skin whitening Treatments.
My Skin was burning and I was ready to hear some nasty comments by Miss FATIMA, As she saw Me and Immediately  started.
" Joy you know this Pigmentation makes me so conscious when I go out In parties or when it is visible in my pictures "
Just Picture I was ready for her Next Dialogue that " treatment is Not Working for me" and  then She said Something I was waiting to Hear all this TIME
" JOY my husband felt that the Pigmentation has really lightened and I was SO HAPPY "
So this treatment is REALLY working .
I was happy and amazed on her 360 Degree transformation, Obviously we all could See the Difference but she was Never Accepting all this while.
See this Picture, Do you see an Improvement Yourself ? And She Still had 11 More Sessions
Then I showed her hundreds of testimonials from Happy clients, Who all have seen Remarkable Improvement with our Pigmentation treatment, and Do you know She also booked an I-lipo Slimming package.
So if you are wondering will her Pigmentation Vanish?
Yes as per our Experience once she finishes her recommended sessions, She will get a crystal clear complexion as her pigmented patches will completely erase. Of-course, She will smile Confidently in every PICTURE after.
What you need to understand is that, Pigmentation is a deep rooted problem and it must be targeted with a proper treatment, People do Expect miracles and overnight results but we
Can Guarantee that you will EXPERIENCE amazing results in the course of  FULL treatment, Without any side effects , Pain or reactions.
If you have Pigmentation or Melasma or Just need Skin Whitening then Visit us for a FREE skin Analysis and avail a SPECIAL Discount in Next 5 Days.
Call us on 043520705